IND, the Chicago-based tuner shop, unveils their latest addition to the portfolio of BMW projects: Green Hell BMW M3 Coupe, an update to the last year's model. As always, IND takes the time to tell us the story behind their project.
"IND as a company is nothing if not extremely lucky. IND's Green Hell Portfolio Project car was first conceived as a concept immediately following an amazing journey to the home of all European motorsport and BMW's own home country, Germany. Our yearly pilgrimage to our promised land served as fuel to inspire the original Green Hell project, a car that was built as homage to all things racing and the Nurburgring in particular.
Green Hell was always about pushing the envelope of what's possible in a street driven M3, and nearly two years ago when the car was first built it was fairly extreme by some standards. When the owner of Green Hell approached us this year to push that envelope even further we knew our luck was in once again, for we had again just completed our yearly pilgrimage to Germany and the Nurburgring, and could not have been more inspired or more motivated to approach the car with new energy and fresh ideas. For us, Green Hell as a Portfolio Project car would once again be a symbol of the human drive to push the envelope. The car represented our endless march toward a constantly moving vanishing point- the desire to be the best, to be the fastest. Even though Green Hell always was and always will be a mixed use street car and track day weapon, this drive to push the boundary is a true reflection of motorsport, in our view, and it is with this drive in mind that we tore into the M3.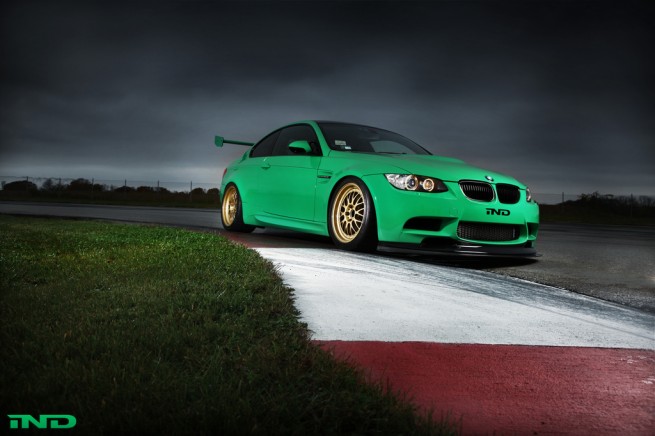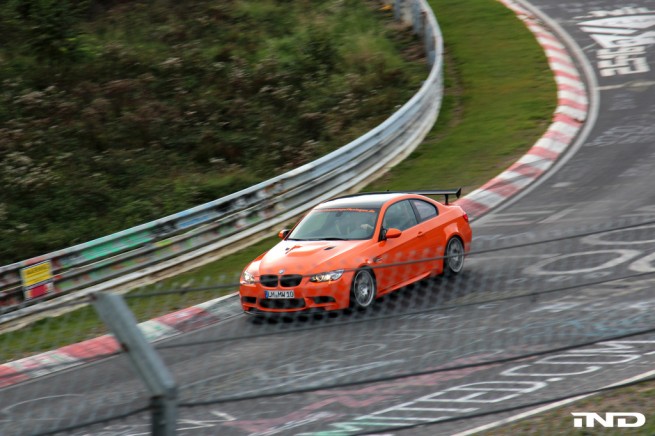 Again, the focal point of the project is the car's engine. Fed compressed air by an ESS stage 2 supercharger kit, the S65 engine in Green Hell is an absolute monster. Generating over 530 horsepower at the rear wheels makes for a car where every supporting modification must be planned around this power level. The acceleration from an ESS stage 2 M3 is brutal. Wringing the car out on the street is more an event than a casual stab of the accelerator- the driver must plan carefully to ensure that nothing is in the car's path as triple digit speeds appear in a few heart beats. It is this character trait that IND chose to focus on. IND would build Green Hell to be a better car by creating a car that could better harness the amazing power bursting from the rear wheels. We would create a 600 crank horsepower M3 that was forgiving and easy to drive at speed.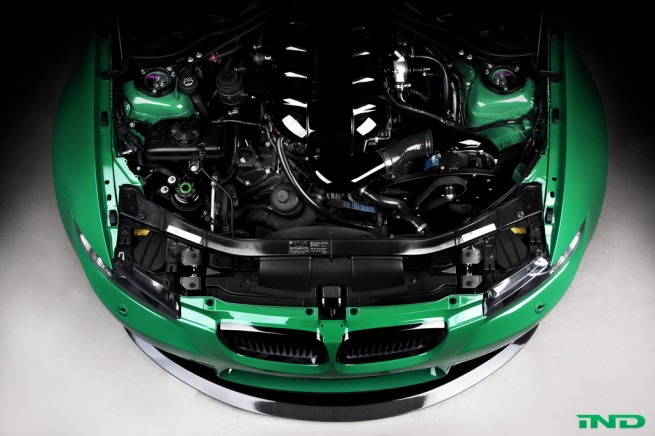 Green Hell was an early adopter, and although there were some ESS Supercharged M3s seeing track use in Europe and beyond, supercharging in general had not gained much traction in the E9x M3 community in the United States when we first built the car, and so we had some lessons to learn. Although Green Hell achieved some very strong lap times it's first season on the track, we realized quickly that the power available from ESS' stage 2 kit was not something to take lightly. Powering out of corners with the 285 width NT05 tires proved challenging, and we knew some changes had to be made.
Mechanically speaking, getting this precious corner exit grip became our quest when reinventing Green Hell, and we've changed the car thoroughly to allow us to use the near 540 wheel horsepower offered by the ESS Supercharger kit. It is this mission that dominated our plan for this year.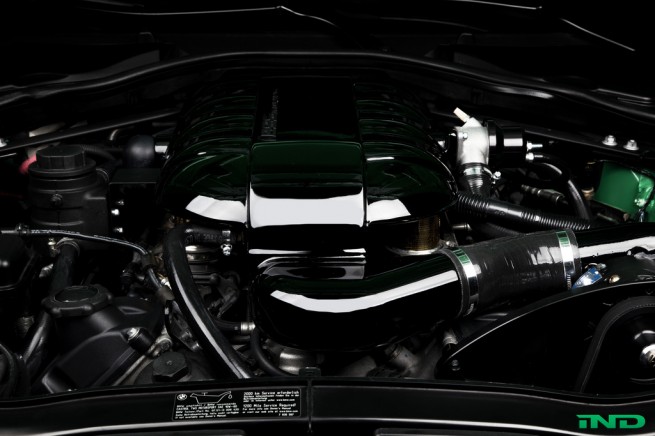 We started by widening the already very accommodating rear quarter panels with some custom work. The original sheetmetal was pulled out and reshaped to allow for an inch of additional wheel clearance while keeping a subtle factory-original shape. The wider rear arches made easy work of fitting the 315 width tires installed on Green Hell.
IND contacted BBS Motorsport for the car's amazing style E88 wheels. These wheels are rarely found far from the racing circuit and are a genuine motorsport wheel. No compromises are made for finish quality, corrosion resistance, or price to ensure that nothing stands in the way of BBS in creating the best possible racing wheel. The three piece construction allows for easy damage repair, and the extremely strong centers will enhance the cornering grip of any car. BBS was kind enough to allow IND to purchase a set of these incredible wheels for Green Hell, and we knew we'd have to give the wheels a special "IND touch" by treating the normally polished outer barrels to a coat of gold that matches the already brilliant gold color of the center. These E88 wheels are sized in 18